Hear how global strategy leaders are turning strategy into results
Why should you attend?
This strategy execution briefing is suitable for senior executives looking to safeguard the delivery of transformation goals and close the strategy execution gap.
Gain cutting edge insights and though leadership to help you to execute your organization's strategy and deliver results
Discover how to distill your organization's plan into its actionable, constituent components and cascade the actions to the thousands of people & locations worldwide
Learn how to utilize performance management to hold employees accountable for key metric goals and to make timely course correction
Gain insights into your organization's strategy execution maturity and capability and receive advice on how to improve your organization's capability in the future
Improve your ability to lead, direct and manage strategy execution and deliver performance
This best-practice workshop will also demonstrate how a strategy execution technology platform will help you to transform, run and improve your organization.
Register for our FREE Strategy Execution Briefing.
*Please note that the presentations will be delivered in English*
9:00am

Arrival & Registration

9:30am

Strategy Execution: a roadmap for implementation – Kyma
We will look at how implementing a strategy execution methodology can help your organization. We'll cover the following topics:

What is Strategy Execution?
The challenges in implementing a best in class strategy execution plan
Maturity Assessment – benchmark your own organization's strategy maturity
Methodologies

An overview of the different methodologies
Maturity and methodology – is there a link?

11:00am

Digitalizing Strategy Execution – what are the benefits and how can one platform safeguard your strategic success? – i-nexus
We will examine the challenges, trends and opportunities around implementing a digital solution for strategy execution. If you are already investing in people and process to deploy strategy, this will give you a great opportunity to learn how to optimize and accelerate.

Understand how leading global organizations successfully utilize different technology tools and techniques. What to expect:

An exploration of how to apply a strategy execution process and the benefits of digitalizing strategy execution
Understand how to build the case for a software solution
Case studies: How two companies thrive using a Strategy Execution platform
A brief demonstration of the i-nexus Strategy Execution tool and an introduction to i-nexus

12:30pm

Lunch
About the hosts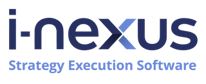 i-nexus is the leading provider of cloud strategy execution solutions, helping global organizations turn strategy into reality. Global leaders turn to i-nexus to translate strategy into goals, goals into action, and action into results. With proven enterprise readiness and support for leading best practices such as Hoshin Kanri and Lean, our solutions for strategy deployment and continuous improvement enable large organizations to achieve more of their goals, faster and with less effort.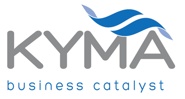 The world where we work requires constant adjustments. Helping organizations to catch the wave is the reason why we have created Kyma. Helping organizations to catalyze existing resources in order to take advantage from their own capabilities represents the way in which we express our definition of business catalyzers.
What we do:
Strategy Execution: Translate strategic objectives into concrete daily activities
Business Excellence: Improve Operating Model to exploit company's potential
Business Innovation: Transform the way to do business to create value and make the company future proof
Leadership and people: Work with human capital to develop the potential