Hear how global strategy leaders are turning strategy into results
Why should you attend?
This Strategy Execution briefing is suitable for senior executives looking to safeguard the delivery of transformation goals and close the strategy and execution air gap.
Gain cutting edge insights and though leadership to help you to execute your organization's strategy and deliver results
Discover how to distill your organization's plan into its actionable, constituent components and cascade the actions to the thousands of people & locations worldwide
Learn how to utilize performance management to hold employees accountable for key metric goals and to make timely course correction
Gain insights into your organization's Strategy Execution maturity and capability and receive advice on how to improve your organization's capability in the future
Improve your ability to lead, direct and manage Strategy Execution and deliver performance
This best-practice workshop will also demonstrate how a strategy execution technology platform will help you to transform, run and improve your organization.
Register your interest in our FREE Strategy Execution briefing series by completing the form and we'll let you know when the events have been finalized!
About the host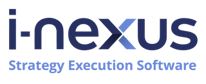 i-nexus is the leading provider of cloud strategy execution solutions, helping global organizations turn strategy into reality. Global leaders turn to i-nexus to translate strategy into goals, goals into action, and action into results. With proven enterprise readiness and support for leading best practices such as Hoshin Kanri and Lean, our solutions for strategy deployment and continuous improvement enable large organizations to achieve more of their goals, faster and with less effort.